/

How to Officiate a Wedding
How to Officiate a Wedding
Being asked to perform a wedding is an incredible honor, but what if it's your first time marrying someone? You'll probably have a lot of questions, and it's natural to feel a bit anxious, too. After all, weddings are big deal. But don't worry – we're here to walk you through the process step-by-by-step. Just follow the guide below as you prepare for the big day!

1. Become a Wedding Officiant
This first step is easy: become an ordained minister with Universal Life Church Ministries. Thanks to our contemporary online ordination process, ordainment is both incredibly simple and fairly quick. And the best part? It's completely free. As an all-inclusive non-denominational religious organization, we seek to knock down the barriers to ordination to make it accessible to everyone – that means no unnecessary hassle, no fees, and no strict requirements.
2. Understand Marriage Requirements
Paperwork is a decidedly unromantic aspect of weddings, but it's an important one. Make sure to research the local marriage laws prior to the ceremony to understand what will be expected of you.
We've compiled a directory of U.S. weddings laws broken down state-by-state to give you an idea of what to expect. However, we highly recommend you also contact the office issuing the marriage license to learn what specific requirements they might have. Contact information for each office can be found on the individual state laws pages.
As part of their minister requirements, marriage officials may ask you to submit proof of your ordination, evidence of your good standing with the church, and other types of documentation. All of these official documents, along with any other materials you might need, are available via the minister store section on our website. It's very important you understand and obey all of the relevant laws as a minister for a wedding!
3. Officiate the Wedding
Now for the fun part – marrying the couple! Once all your paperwork is in order, it's time to focus on the wedding itself. Your first order of business should be to speak with the couple and make a plan for the ceremony. Do they want a fun, laid-back ceremony or a more traditional and formal affair? What aspects do they want included, and what parts would they rather be left out? If you'd like assistance putting together a ceremony script, check out our wedding script generator – this tool has helped thousands of ministers find the right words for the big day.
The ceremony can be customized to the couple's liking, but it's important to remember there are two mandatory elements that must be included in any marriage ceremony:
The Declaration of Intent, which includes the "Do you take…I do" exchange.
The Pronouncement, when the couple is officially pronounced married.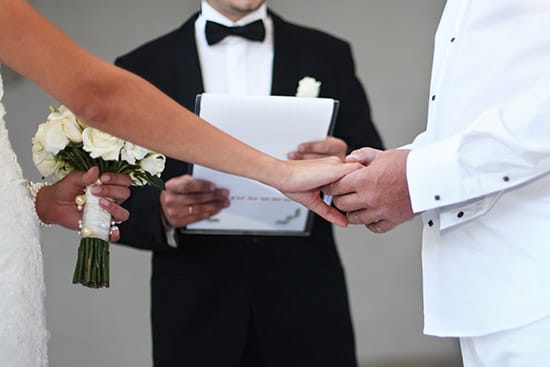 When it comes time to step to the podium, make sure to speak up so everyone in the audience can hear. Don't rush through the ceremony; take a deep breath if you find yourself speaking too fast. Most of all – enjoy it! Officiating a wedding is an amazing experience, and one that not many people can say they've had.
4. Fill Out the Marriage License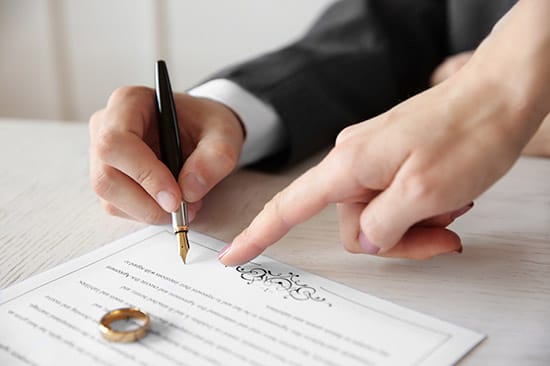 The ceremony may be over, but your job isn't - not just yet. You still have to make the marriage official by filling out the license, signing it (along with the couple), and ensuring it gets returned to the office where it was issued. Note that rules for marriage licenses vary from state to state, so make sure to read the fine print carefully. If you have any questions about filling out a marriage license, visit our marriage license training page for more information. You can also find certificates of marriage and certificates of commitment in our Minister Store store to deliver to the couple as a heartfelt, meaningful gift.
After the paperwork is successfully submitted, you're officially done with the wedding! Congratulations!